How to set the color scheme
It is possible to set the color of Clibor from the color scheme of Preferences.
Presets are also prepared in advance.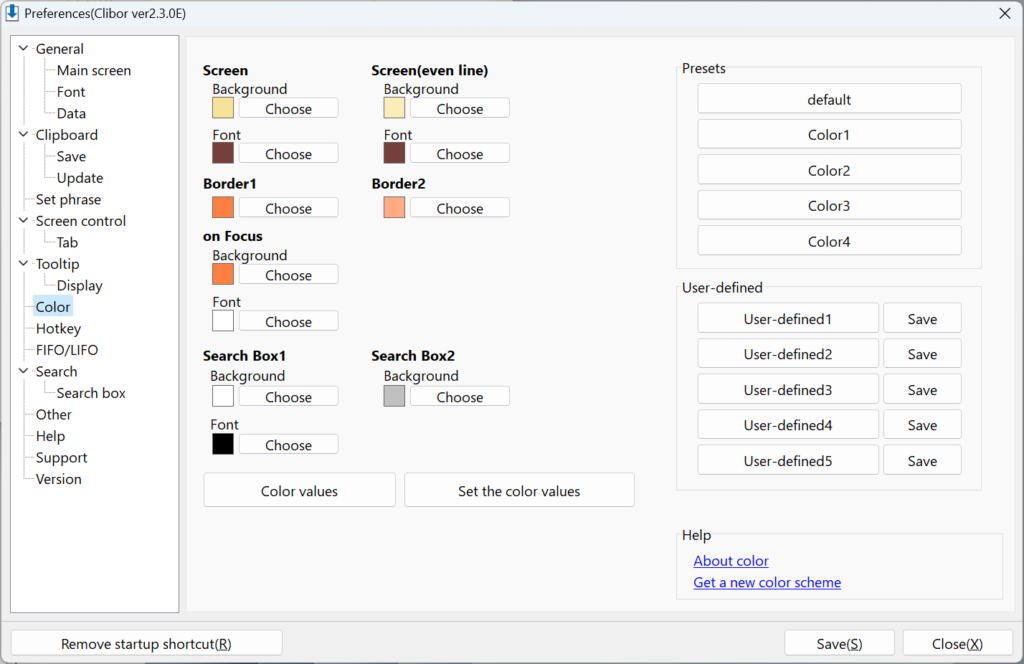 If you have your favorite original color scheme, save it to your user definition!
The color scheme values can be displayed by clicking the "Color values" button.
The content displayed is a color code.
Example
[CLIBOR]
BACK_COLOR=$0097E3F7
SLTBACK_COLOR=$004080FF
BACK_COLORF=$003C3F75
SLTBACK_COLORF=clWhite
LINE_COLOR=$004080FF
LINEHYOJI_COLOR=$0084ACFF
BACK_COLOR2=$00B8EDFA
BACK_COLORF2=$003C3F75
SEARCHT=clWhite
SEARCHF=clSilver
SEARCHTF=clBlack
Set the color values
Click the "Set the color values" button and load the following string.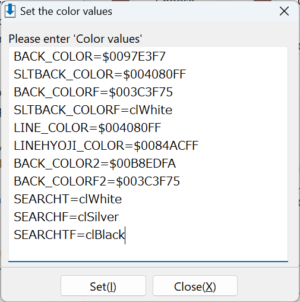 Example
[CLIBOR]
BACK_COLOR=$0097E3F7
SLTBACK_COLOR=$004080FF
BACK_COLORF=$003C3F75
SLTBACK_COLORF=clWhite
LINE_COLOR=$004080FF
LINEHYOJI_COLOR=$0084ACFF
BACK_COLOR2=$00B8EDFA
BACK_COLORF2=$003C3F75
SEARCHT=clWhite
SEARCHF=clSilver
SEARCHTF=clBlack